For the last year, I've been meaining to run the 4 local mountains close to my rental house in DownEast Maine. I've run up and over Schoodic Mtn many times,
and today, after being dropped off by my wife at the base of Catherine Mountain, I ran all 4 peaks. Here's the gps track: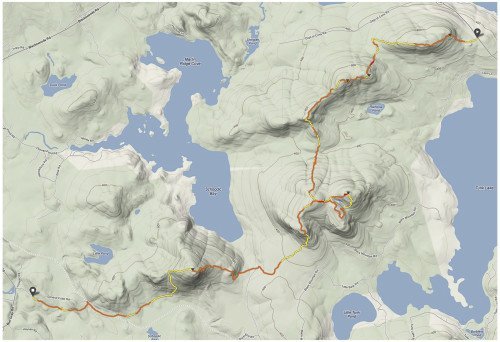 and here's the elevation profile (absolute height should be lowered by 100 meters since I fogot to calibrate my watch at beginning.):


After a week of rain and cold, today was finally a nice sunny day. Got a late 8 am start, ran over Catherine Mt, and then to Caribou Mtn where one has this
view of Black Mountain (with 2 (or 3 depending on your criteria) peaks):



From Caribou Mountain, it's down the cliffs then down to the valley, and then up to the west summit of Black Mtn (in the woods) and then down to the col and up
to the bare east summit, which affords a nice view back toward Catherine and Caribou Mtns:



From here, we can also turn around and see the forested west peak of Black, and the bare summit of Schoodic Mountain (and in the distance, the Mountains of Acadia National Park):



I was thinking I could run all the mountains in 3 hours, so I brought no water but did bring about a half dozen prunes and a few pecans to keep me from bonking.
Alas, I took 3 hours to get to the base of Schoodic Mountain, and by this time, the temperature was rising, and I was pretty much running out of steam. Managed to push to the summit and run slowly the rest of the 5km home from the summit. Legs were pretty beat today.
I'm glad I did this "run" but don't think I'll do it again, as it's not really very runnable. The trail is pretty technical (rocks, roots) but too brushy to confidently see your footing ahead. Consequently, I could not really get into a running rythm. On the other hand, there's over 1000 m of vertical in this 19km
section, so no matter what, your legs get a pretty good workout.
For trail runnning in DownEast Maine, it's really hard to beat Acadia National Park on Mount Desert Island. Lots of vertical and nicely runnable trails.