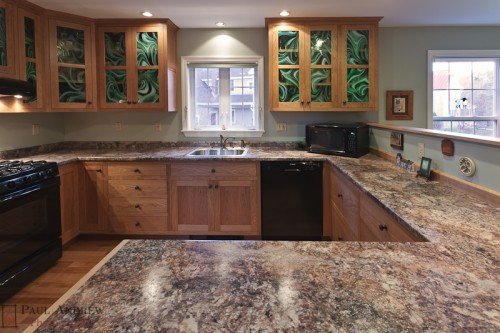 I just finished editing a set of architectural photographs for Steve Prescott of Fiddlehead Designs in Brunswick, Maine. This is a total kitchen redesign he recently finished for a client. Steve did all of the cherry cabinetry for this job, and he had custom glass created locally for the cabinet doors. It's an impressive job, and anyone who has had any experience with woodworking will immediately notice the attention to detail from the matching of wood grain, to the extremely uniform reveals and excellent joinery.
Photographically, the job required an extremely stable tripod, as I wanted to show the kitchen in the lighting conditions actually present in the kitchen. I used the available light to photograph everything, and this meant at ISO 100, exposures of around 2 seconds at f/11.  The most challenging aspect (that threatened to take even more post processing time than I  wanted to spend) was the very blue (and very bright!) outdoor light streaming in through  the windows, while the indoor color temperature was due to the "warmer" tungsten lights (It drives the physicist part of my brain absolutely nuts to call blue light "cool" and red light "warm"—who came up with this?). The best way to have dealt with this would have been to have to drop the window shade, but that would have made my exposure times either very long or required me to go to higher ISOs than I like. So I used Photoshop CS5 to select the window area (and a few "cool" patches in the image) and applied a warming filter. Not perfect, but it made a marked improvement. Perhaps lowering the window shades would have been better? What would you do?
Lightroom 3, with its ability to correct for lens distortion and make manual adjustments made my 17-40 f4L lens into a pretty close approximation of a tilt-shift lens, and I could perform all these corrections on the raw images non-destructively. This is a completely fantastic feature, although it really seems to slow down processing of the images when this is enabled.
More images of this kitchen can be seen at this site.